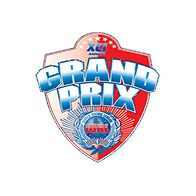 The Cosmopolis Grand Prix is a racing track featured in the Speed Racer film (and the tie-in video game).
Background
It is one of many courses sanctioned by the WRL. Located on the center of Cosmopolis, inside a massive colosseum. This is where the final race of the film takes place in, where Speed Racer goes against Jack "Cannonball" Taylor and many other famous drivers.
Racer List
According to the racer list from the film, 40 racers participated in the Grand Prix. The list appears to have some inaccuracies, as several of the drivers listed don't appear in the movie, and several sponsors are not listed here. Here's the list as it is in the movie:
Actual car list
Mach 6 #6 1st
Grx #66 DNF 32nd
Grey ghost #23 DNF 28th
Musha Motors  #44 DNF 29th
Sonic boom boom Renaldi #33 26th
3 roses #33 9th
Prince kabala #13 DNF 34th
Zoomishi #82 #16th
UlUL car #81 7th
Janus automakers car #11 DNF 35th
Kasatoshi car #53 DNF 31st
Gearbox's car #91 DNF 36th
Red kawarimono car #30 DNF 33rd
Blue kawarimono car #30 6th
Infernal oil car #43 10th
Masurai car #22 17th
Strauss auto car #45 15th
King crab urinal cakes car red colored #45 #14th
Blurring ultramarine car #66 21st
yellow Iodyne car #34 12th
Paxon car #42 13th
Iodyne industries car #34 23rd
Tortitude tiga car #78 25th
Topps/happy chow car #49
Ekpyrosis car #31 DNF 40th
Infinity 55 car #55 DNF 39th
Scarlett valentine car #40? DNF 38th
Firebatter car? DNF 37
Petrobras car #3 2nd
Glu car# 73 27th
dispersion car ? 3rd
Mantini car? 24th
Ki goi car #19 11th
Velocity speedster car ? 4th
Yellow velocity car ? 19th
UlUL car 2 #81 22nd
Manecks car #89 18th
Zokeo car #59 5th
La Maria car ? 20th
Blue Zokeo car #59 DNF 30th
Trivia
The track was originally going to only feature 39 racers, one short since Taejo Togokahn refused his invitation; but thanks to Togokahn's sister, Speed was able to take the 40th spot and race for the prize.
Gallery
Community content is available under
CC-BY-SA
unless otherwise noted.