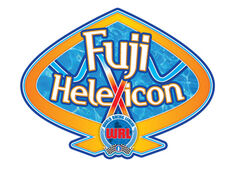 Fuji Helexicon is a racetrack in The World Racing League located in a tropical archipelago. The Track appears in the 2008 Movie and The Video Game.
Racer List
There's no list showing the driver names from Fuji, but some can be noticed via analysis. Here's a list of the known ones:
Finishing order
1st. Grey ghost
2nd. Racer x
3rd Silver type d
4th Manecks car 2
5th Infernal oil car (Blue and Yellow car)
6th Mach 6(dnf)
7th 3 roses (dnf)
8th Togokahn(dnf)
9th Surge box( dnf)
10th Billy steel belted(dnf)
11th Iodyne(dnf)
12th Kawarimono(dnf)
13th Nosok(dnf)
Gallery
2008 Film
Videogame (DS)
Community content is available under
CC-BY-SA
unless otherwise noted.