The Mach 6 is a car featured in both the 2008 film and The Next Generation series. It is the successor to the Mach 5.
Speed Racer (2008 film)
In the Speed Racer film, the Mach 6 is a state-of-the-art T-180 racing car driven by Speed Racer in the World Racing League. After the "accident" during the Fuji Helexicon race, Speed, Pops, Sparky and family are left to build a new one from scratch to race in the WRL Grand Prix. The car used in the film was designed to look like an Indy car or Formula 1 racer.
Specs
This car features auto-jacks like in all T-180 racers, but it has case-hardened dampeners for extra power, which means much higher jumps. It is also powered by a single-forge Bernoulli Convergenator, which is claimed by Pops to be superior to the GRX's inter-positive transponder ("Transponder schmonder," he said, "You want real kick, you go Bernoulli.") This claim was proven when Speed ran a patch through the starter to the Convergenator, shifts the Mach 6 to fifth gear, and jump-starts it, making for an extraordinary burst of speed. The car also features a custom-designed suspension system whose components are derived from biological sources for a degree of flexibility not seen in factory-built wheels. The Mach 6's chassis is a hand-welded nitronium cage with octovalve fasteners, along with a body shell reinforced with submolecular metallitizers. 
Other Appearances
This model of the Mach 6 is also featured in the videogame tie-in.
Speed Racer: The Next Generation
The Mach 6 in Speed Racer: The Next Generation, is the successor to the Mach 5. It was built by Conor after the schematics for the car was found in the wreckage of the Mach 5.
Unlike the Mach 6 used in the Speed Racer film, Speed Jr.'s Mach 6 is a coupe design with a front-mounted engine. In contrast, the T-180 homologated Mach 6's design can be more likened to a single seater or prototype racer. It is also capable of seating 3 people. The car itself is essentially an updated version of the Mach 5, and is equipped with upgraded versions of its predecessor's gadgets. These include laser saws/cutting blades, a homing bird and auto jacks.
The Mach 6 in this series runs on a gasless engine and is also capable of traveling through time and to other universes with the hourglass part.
Mach Go Go Go model kit
No information yet
Gallery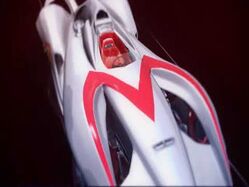 2008 Film