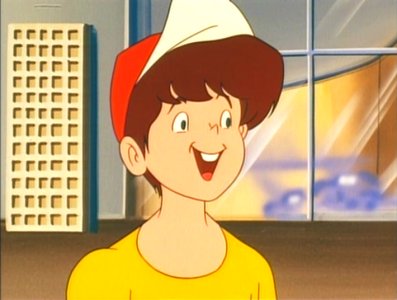 Sparky (サブ, Sabu?)
An integral part of the Mach 5 Go Team, ace mechanic Sparky is also Speed's best friend. Along with Pops, Sparky knows the Mach 5 inside and out. His job is to make sure the supercharged vehicle outperforms any other car on the track. Sometimes, this means making last-minute adjustments, often seconds before the race begins.
Like the rest of Speed's support team, Sparky assists Speed off the track also. Sometimes this requires him to put down his wrench, and to put up his fists. His loyalty shines through when he does whatever it takes to help Speed, even finding him an essential auto part after being scolded by his hero/friend, as seen in Race for Revenge parts one and two (Or is he more concerned about the Mach 5's welfare than Speed's?).
Also, he endeavors to improve the Mach 5. Motivated and curious, he's been known to snoop around a competitor's vehicle to get new ideas, as seen in Race Against the Mammoth Car Part One. Invariably, he gets into trouble. Sparky may not always be at Speed's side, but he's always behind the scenes, making things happen, and helping his friends.