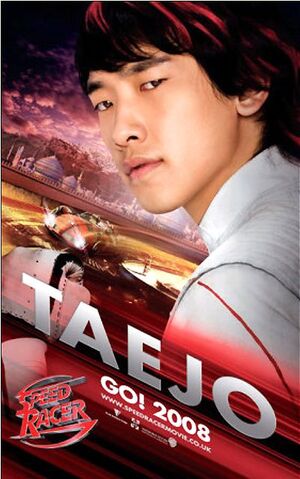 Taejo Togokhan (태조 토고칸) is played by Rain in the 2008 Speed Racer movie.
He is Korean-Japanese and is the son of the president of Togokhan Motors (토고칸) and brother to Horuko Togokhan.
He begins resisting Royalton Industries' attempts at 'fixing' the races and suffers threats from Cruncher Block (an ally of Arnold Royalton) until Racer X saves him. Later he builds a team consisting of Racer X and Speed Racer to break the fix that was set for Casa Cristo. The idea was to expose Royalton Industies as a big-time fixer, but he does not go through with it and is revealed to have plotted with his father to win the Crucible merely to drive Togokhan Industries stocks up. When his sister Horuko, however, gives Speed Racer the Grand Prix invitation they won at Casa Cristo, Taejo cheers for him. Upon Speed's win and Royalton's exposure as a cheat in the WRL Grand Prix, Taejo acts as a witness to ensure Royalton ends up in jail. A newspaper article later states that Taejo Togokhan agrees to testify against Arnold Royalton and Cruncher Block. Taejo also appears in Speed Racer The Videogame where he is voiced by Ben Diskin. In the game, his ally is Prince Kabala and his rival is Racer X.